Congratulations, Kings! Varsity Champions 2022
Watch all the action back below. With huge thanks to Film and TV Society for producing and broadcasting, and to RareFM for commentating.
Medics Hockey (Women's & Men's) - Varsity 2022
Hockey (Women's & Men's) - Varsity 2022
Netball - Varsity 2022
Basketball (Women's & Men's) - Varsity 2022
Rugby (Women's & Men's) - Varsity 2022
Medics Netball - Varsity 2022
Football (Women's & Men's) - Varsity 2022
The UCL-KCL rivalry began nearly 200 hundred years ago when King's College London, an Anglican college was founded - a stark contrast to UCL's secular mantra.
The rivalry gradually moved away from religion and became more a rivalry of class, with KCL being deemed the more 'traditional' and elitist institution, with UCL the liberal and more progressive institution. Rag Weeks became the forum for the students to express their dislike for one another.
Soon the rivalry moved onto the field of play - the grassy pitches of Shenley and Regents park became the place where old scores could be settled.
Despite the sporting nature of our rivalry, over the years, both Kings and UCL students have kidnapped each other's mascots, holding them to ransom.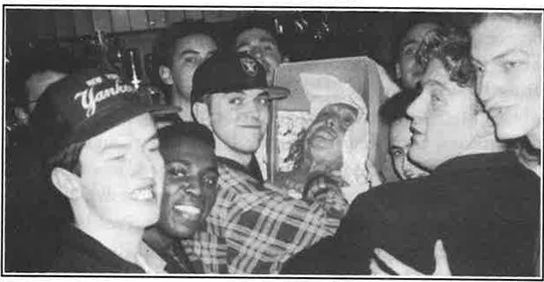 Mutual rivalries inevitably lead to a sense of camaraderie among peers and varsity is now a far more sporting affair.
This is a derby, and TeamUCL wears the badge with pride. Will we lift the trophy again?
In 2019 we ran a consultation on whether to keep Phineas as our mascot. You can read the background on why the consultation took place here.
After the consultation, and hearing the views of hundreds of students, elected officers voted to remove Phineas as our official mascot.
We're now on the search for a new mascot!
Who, or what, should represent UCL students during sporting competitions? Leave your ideas here, and we'll share further information in term three.